Turbacz
The highest peak, located in the center of the band and formed a powerful rozróg. According to most sources, has a height of 1310 m above sea level, heart Gorce, attracts other ridges, combines them head and shoulders above the other peaks gorczańskimi. Some say that here, between Turbacz, Kiczora and Porlocks, the wooden chapel of Our Lady Gorce, most feel the special atmosphere of the mountains
Zakopane, Krupówki
Zakopane is the largest urban center located at the foot of the Tatra Mountains and the highest town in Poland. Every year, the United Krokwi is the World Cup ski jumping is a winter sports center, has long been known as the winter capital of Polish.Krupowki are representative street in Zakopane, located in the center of the city. They begin at the intersection of Nowotarska and stretch over kilometers south promenade. Along these there are many shops, restaurants. In the mid Krupówki overlooking the Giewont.
Gubalowka
It is one of the most famous and most visited mountain in Poland. Popularity is due primarily funicular that runs almost to the center of Zakopane, built in 1938, with a length of 1298m and a beautiful panorama of the Tatra mountains beyond from the summit. Numerous souvenir shops, restaurants and terraces. The walking trail leads Gubałówskie Pope on Butorowski Peak 1160 m above sea level, from where you can pull off the chairlift Kościeliska.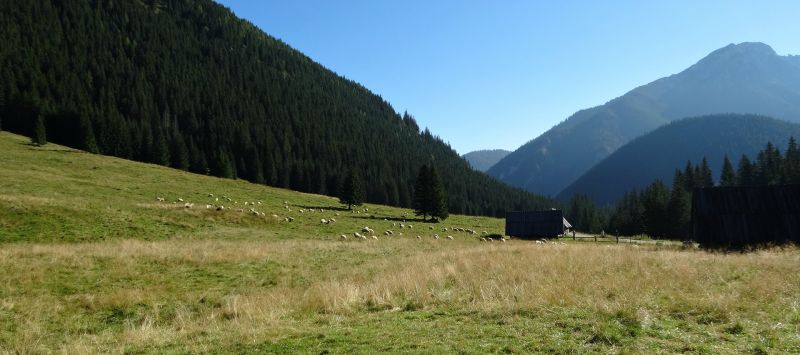 Chochołowska Valley, Kościeliska
Chochołowska Valley - the longest and largest valley in the Polish Tatra Mountains, located on the western edge of the Polish Western Tatras. It occupies an area of ​​over 35 square kilometers and has a length of approximately 10 km. Its picturesque scenic trail is breathtaking.From Zakopane many buses drive to Siwa Polana. From that point, then you can move: by foot. Walking time to Glade Chochołowska: 2:10 h, tourist train, by bike. Works bike rental, carriage rides highland, which leads to the same Glade Chochołowska.
Kościeliska Valley - Valley ristics, ie extending from the foot of the Tatra Mountains to the main ridge - the main ridge of the Tatras. It is located in the Western Tatras. It has about 9 km in length, circumference about 27 km and an area of ​​approximately 35 km ². Creates a long and deep rocky gorge, the walls of which in three places called gates are approaching close to each other. Kościeliska Valley was also a favorite destination for treasure hunters.
Top Wdżar
This is one of two places in the world where a compass gets lost. Both in winter and in summer you can find here a lot of tourist attractions: including chair lift, rope park, nature trail, have been made available to tourists three disused quarries Tylka, Snozka and Lisi crowbar, ski resort Czorsztyn-Ski (ski runs and ski lifts), summer toboggan run or bike trail downhill and catering and technical. Quarry Snozka (private area) is used by rock climbers. It is also one of the official Wdżar paragliding landing field. Especially suitable for thermal flights. Here, as one of the first Polish gliders trained Joseph Gigon from Nowy Targ. Here also established the first Polish records in the field of sport, and in 1977 a record rise above the level of take-off (1160 m), in 1980 a record time of flight (8 hrs. 20 min)
Trwa ładowanie strony prosimy czekać...